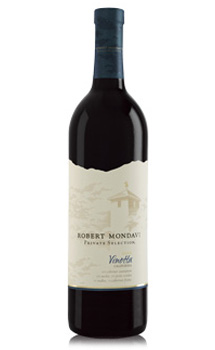 While at the aforementioned wine tasting yesterday I tried quite a few fantastic wines. And I'd love to make
Far Niente Cabernet
or something of it's ilk the booze of the week, but the fact of the matter is none of us can afford to buy something like that for anything but the most special of occasions. Static and Wine supports alcohol consumption on a regular business, not the teetotaling consumption only on special holidays that some folks endorse. Moderation and safety are obviously key, but wine should be a part of people's lives. So as I stumbled upon one of the more underated and affordable wines I've had in a while, the little hamster started running on it's wheel in my head and I knew I had a lock for BotW. So without further adieu, Robert Mondavi Private Selection Vinetta is this week's selection for Booze Of The Week.
This is an extremely affordable (~$10 a bottle) wine that over delivers for it's price point, but first thing's first, what is a vinetta? Well the word Vinetta, while sometimes used as a name, is just a variant of Vincentia, the latin for vineyard. In this case though, vinetta is the name Robert Mondavi uses for it's bordeaux-style blend. It's a blend of 68% cabernet, 14% merlot, 11% petite verdot, 5% malbec, and the elusive 2% cab franc. Why they chose to call it vinetta is anyone's guess, but I will tell you it is quite lovely.
While a little fruitier than one would expect from an actual Bordeaux, I think it's a fair comparison. It's a well balanced wine that has a fair amount of staying power but not overly tannic or heavy. The nose is mostly oak and plum while the taste is cherries, cocoa, licorice, and a bit of smoke and/or oak.
It's available in both 1.5L and 750mL sizes, has a faux cork, and the fruit is from the Central and North Coast Appellations. I'd pair it with grilled meat (though it might be a little underwhelming for a big steak, think lamb or pork) or blue cheese.
It's one of those rare few bottles of wine that overdelivers on it's price point, then again that's true of most Robert Mondavi wines (if you can find a better Sauv Blanc than Woodbridge for $9 a 1.5L I'm all ears). I could easily see paying $14.99 for this and consider it quite the bargain at $10. So there you have it, you know the drill, drop me line if you've had it or if you find yourself grabbing a bottle this weekend. Cheers!